From the MyFWC:
Bay scallops (Argopecten irradians) may have a short life, typically only living for about a year, but they play a big role in the economies of many coastal, Floridian towns, like Steinhatchee and Port St. Joe. In 2016, Florida Fish and Wildlife Conservation Commission (MyFWC) biologists began a 10-year project to restore bay scallops in Florida's Panhandle. The initial effort for this restoration project is focused in St. Joseph and St. Andrew Bays. If you are a member of the community surrounding St. Joseph or St. Andrew Bay, you can help by volunteering to become a 'scallop-sitter' and maintain your own cage with scallops in your bay!
Project Goal: To increase depleted scallop populations in some bays and reintroduce scallops in other suitable areas from which scallops have disappeared.
How we restore scallops
FWC biologists place wild and hatchery-raised scallops in cages in the bay.
Cages protect scallops from predation.
Cages likely increase the number of offspring produced, increasing the population size over time.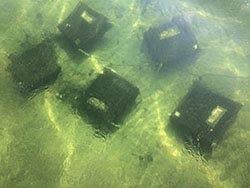 Project Details:
Volunteers will maintain scallops in cages from April 2018 – Jan 2019.
Cages will be placed either on your own private dock or in the bay using a boat or kayak.
FWC will provide cages, scallops, and training during our workshop in April 2018.
Together, we will help restore scallops in these bays.
What does it take to be a volunteer?
1) Live near St. Andrew or St. Joseph Bay from April 2018 – January 2019.
2) Access to the Bay: either a private dock, boat or kayak.
3) Willing and able to clean scallop shells once a month.
4) Attend or view via webinar FWC's Scallop Restoration Workshop in April 2018.
If you are interested in becoming a scallop sitter in Gulf or Bay county please email us.