Everyone's Input Needed: Results from the Public Meeting Concerning Enhancing the Amenities at Salinas Park on Cape San Blas, FL
---
First, the public has an unique opportunity to really enjoy a variety of amenities at Salinas Park because of the funding being brought to this area from the Gulf Spill Restoration program. This opportunity to have a say in what amenities should be included in upgrading Salinas Park is discussed a little further down.
But first, there are some exciting amenities being added to the Salinas Park. One such new feature is an impressive elevated boardwalk which will extend along the new 6.6 acres of land that will be added to Salinas Park. This boardwalk will be a great attraction to the park. A description of the boardwalk is as follows:
Three trail heads near the adjacent road comprised of a 450-square foot concrete pad and a few amenities such as a trash receptacle, bike rack and repair stand, bike pump, water misting station, and water fountain. The trailheads are to be strategically located to support access from the adjacent paved trail.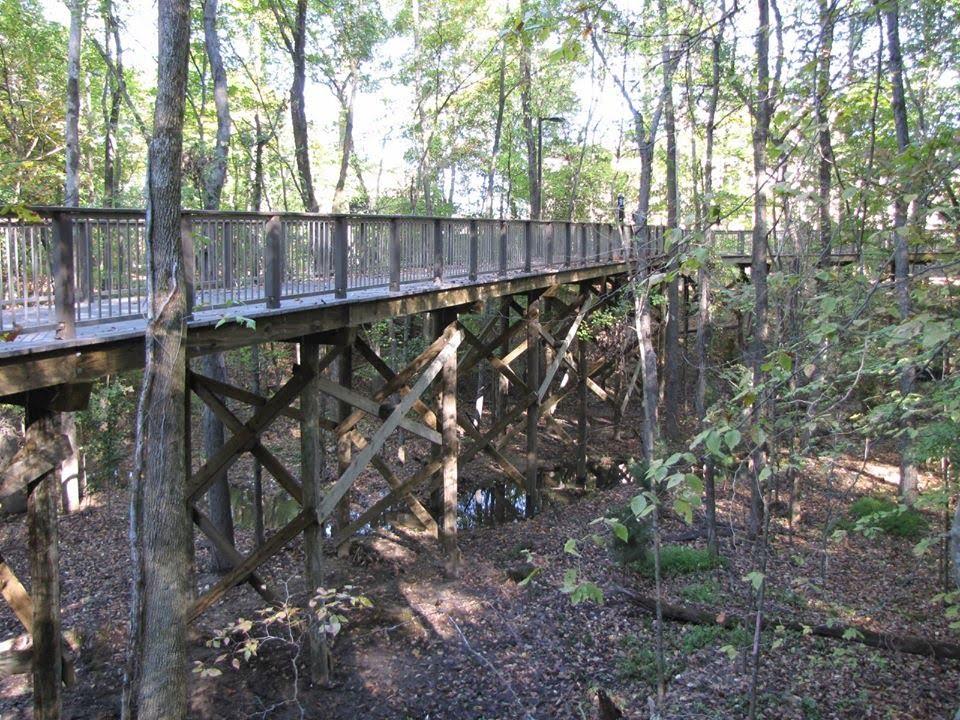 Elevated boardwalk of 10 feet x 1,200 lineal feet (12,000 square feet), including:
10-foot wide elevated wood boardwalk at 1percent grade, rising to 13 feet above grade.
6-foot wide elevated wood boardwalk 1-2 feet above grade with curb.
300 square-foot observation platform at 13.6 feet above grade.
300 square-foot observation platform at 14feet above grade.
A peak 400 square-foot observation platform at 15 feet above grade with seating.
A 140 square-foot platform for maintenance vehicle turn around.
Trail extension from the existing parking area in Salinas Park to the trailhead (made of shell). See photo below.
We are so excited about this new park feature!
Second, which is a very important part of this project and kind of like the elephant in the room, are the courts that will be added to Salinas Park. As is shown in the photo, the courts that are currently but tentatively included in the draft plans are pickleball courts. There is a push being made for adding pickleball courts but not really including any other type of court to the park through this funding. However, other courts can most certainly be included in the new amenities of the park. For this to be accomplished though, the public needs to submit their recommendations to the National Park Service. This can be done here:
https://parkplanning.nps.gov/document.cfm?parkID=534&projectID=75938&documentID=83892
When giving your recommendation(s), you do not have to provide your name–just what amenity you would prefer to see or what you would think is the best amenity or amenities for Salinas Park.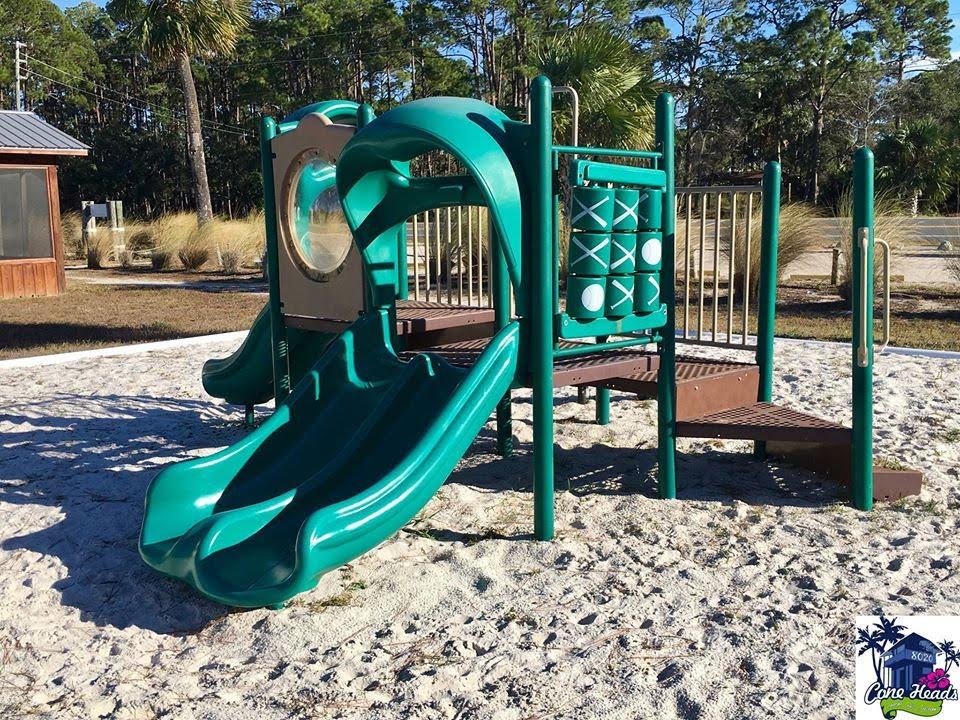 For example, do you think a basketball court, a tennis court, a full ecotourism playground (see photo), a pickleball court, all of the above, remove one from the list, etc, etc would be great to include in the upgrading of Salinas Park? Then, by all means, send that recommendation to the National Park Service. THE DEADLINE FOR SUBMITTING RECOMMENDATIONS IS DECEMBER 8TH.
By having a variety of court options, locals will have a variety of amenities to enjoy throughout the year with their family and friends in a beautiful location. What courts would appeal to the locals who are here full-time? If you are a local, what appeals to you?
Something else to keep in mind is this: Demographics. By far, the largest demographic of people who visit our beautiful peninsula are family units between Spring and Fall. These families consists of parents with younger children and parents on vacation with their older children who are in their 20s and 30s but they fill up Cape San Blas. No other time is Cape San Blas filled up like it is in season. What would be some of the amenities that would appeal to the largest group of people–the families–who visit the area? What would your family enjoy the most?
One suggestion at the meeting was to build a tennis court and then include the lines for a pickleball court inside the tennis court. This is done at other parks and it is easy to do because a tennis court is considerably larger than a pickleball court.
At the end of the day, it is important to think about what options will appeal to the most people: having only one type of court or a variety of courts? It is up to the people who would like to see a variety of courts brought to Salinas Park to make that known by submitting their recommendation to the National Park Service. Because the deadline for submitting recommendations is December 8th, we are going to keep our poll going concerning Salinas Park's enhancement until December 8th. You can participate in the poll here:
https://parkplanning.nps.gov/document.cfm?parkID=534&projectID=75938&documentID=83892
To listen to a full recording of the meeting, click on the link here: https://ftpportal.dep.state.fl.us/public/file/GhppWh5vb0CMctTt9vY5OA/Phase%20V.2%20Public%20Meeting%2011-16-17.MP3 The password to use is Salinas. Fast forward 45 minutes to get to the public comment portion of the meeting.
We hope everyone will submit his or her recommendations. Please share with your family and friends. DEADLINE IS DECEMBER 8TH.